I got the opportunity to do a review of Boogie Wipes! For those of you who aren't aware of this product, they're wipes for your children's nose!! My daughter gets a kick out of them because of the colorful packaging and the fact that they wipe her allergic little nose without hurting at all.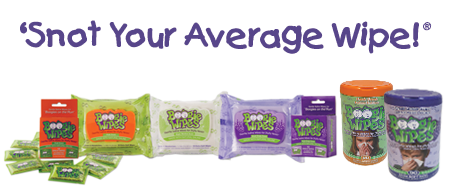 Part of what is so great about these wipes, is that they contain saline and aloe. They are very soothing. Our whole family has been using them since we received them. (Turns out allergy season is really a perfect time to do a review of this kind of product!!)
They are moist, which my daughter thought was a little strange at first (because she assumed they were just like tissues, since I was about to use them to wipe her nose. Once she knew that they were going to wipe her nose without making it sore or red, she agreed to try them out. Then, once she saw that I was right, and that wiping her nose actually felt refreshing, instead of painful (you know how tissues feel after you use about a dozen of them on your nose..), she was hooked. Not only that, but they really make your nose look and feel
clean
in a way that tissues really don't.
Boogie Wipes actually has a lot of cool stuff going on right now too.
They are in the middle of a Facebook contest right now. Take a video or snap a photo of one of your (obviously cute) sneezes and post it to your Facebook wall with a Boogie Wipes tag. This contest ends on June 30th, but with all of the allergies around right now, surely you will be able to catch one before then.
Target is supposed to start selling 45 count FRESH scent Boogie Wipes!
Most major retailers are now also selling 90 count canisters!
They offer a lot of different products. Go to their
WEBSITE
to check them out!
Luckily for all of us, Boogie Wipes has also been gracious enough to offer one lucky Mom Show reader the opportunity to win two packages of Boogie Wipes!! Enter on the Rafflecopter below!!
a Rafflecopter giveaway
Disclaimer: I was given free product in order to do a product review. I received no further compensation and my thoughts and opinions on the products are my own. I only give positive reviews on products that I feel will be a good match for my readers.