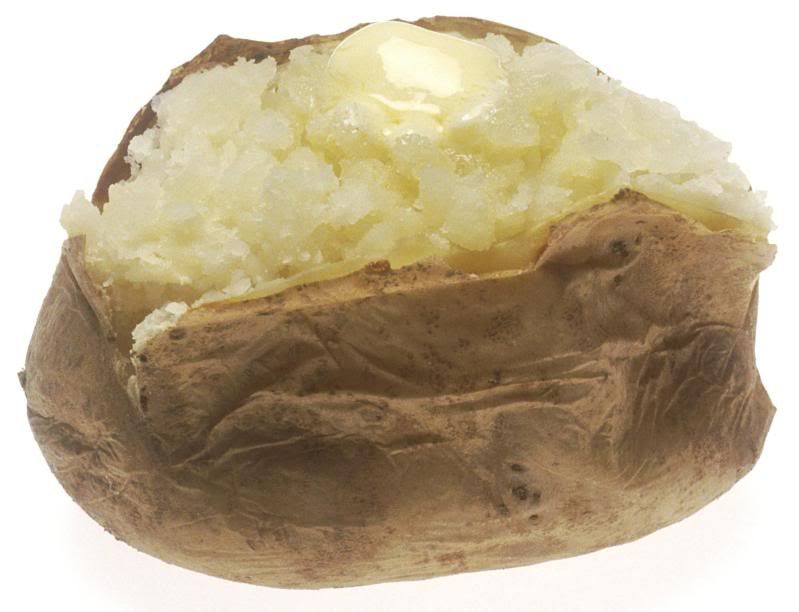 Baked Potatoes make such a great, easy side dish. What an easy way to add a starch to your meal, right?
I don't know if I've shared this with you before but up until a few years ago, I could not cook. At all. My husband and I still laugh about the first time I surprised him at work with "lunch" that I "cooked". I decided to make up some rice and bring it to him, only, I didn't cook it all the way, so I ended up serving him crunchy rice.
The point is, that I actually had to look up recipes online for baked potatoes before I could ever make them. I have looked at oven recipes but they take longer than I typically want to wait for a side dish. Most of the microwave recipes I found either didn't have a long enough cook time, or they just weren't great.
I found a LOVELY recipe. Completely finished in less than 12 minutes, and they're delicious! My family even eats the skins (which my husband wouldn't even touch normally!!)!
Here it is:
Baking potatoes (I always make five or six at a time for my family)
Olive Oil
Salt
Pepper
Wash and dry your potatoes.
Rub olive oil along the outside.
Pierce your potatoes on each side with a fork.
Sprinkle both sides with salt and pepper.
Put them on a microwave safe plate,
Microwave for five minutes, then turn them over and microwave for another five minutes.
Let sit for two or three minutes, dress them how you like, and serve!
Disclaimer: I got the idea behind this recipe from this website.