I absolutely love decorating for the Holidays. Green, red, and gold colors, the scents of trees, foods, candles and more.
I love using
candles
as both decoration, and a way to get my home smelling like Christmas! I usually make a centerpiece with some gold, green or red candles, and then in addition to that, we usually get some Balsam Fir, Cinnamon, candy cane, and other scented candles. I love
winter candles
!
This year, I'm actually thinking about making something out of some adorable floating candles. There are some really nice ones out there, related to Christmas!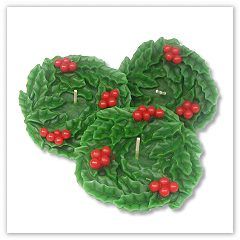 My absolute favorite use for
Christmas candles
, as I've said before, is using them to add those Christmas scents into my home. I love all of those scents, and I get so excited for Christmas time to roll around so I can pull out the candles and sprays!
This year, I actually have a centerpiece already designed, I just have to get the stuff to do it. I am going to take a flat platter, place either three gold colored candles or maybe some
Christmas Tree Candles
on it, and put some pieces from our tree around the bottom.
Not only that, but a lot of families include things like advent candles! In my opinion, I feel like candles make any decoration a little more elegant and classy!
If you are interested in shopping for candles, Crafted Candles is actually currently offering a discount for their fans on their
Facebook page
!
Right now, also thanks to Crafted Candles, you are able to enter to win a $100 Credit to Crafted Candles! Enter on the Rafflecopter below! Good luck!
a Rafflecopter giveaway
Disclaimer: This post is sponsored by Crafted Candles and powered by Couponista Queen.