Treatment For Sunburns with Sunburnt
If you're not somewhere where it is just too hot to spend a lot of time outside, there's a good chance that you're spending a lot of time outside! Often times, this can come with an unpleasant side effect of sunburns!
Sunburns, sustained on exposed skin after spending too much time in the sun, particularly without protection, can be damaging and also really painful! This is why, it's always recommended to protect your skin from the sun as much as you can, however, sometimes, we all make mistakes, and yes, even with sunscreen, it is possible for your skin to burn.
What do you do to ease the pain of your sun burns? I have found a new product that helps to literally cool your skin (thus releasing the heat trapped in your skin from the sunburn!), ease the pain and even reduces skin peeling as it heals!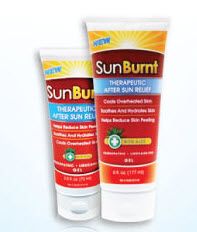 This product is called SunBurnt After Sun Gel, and it is awesome! When you first put it on, you can really feel your skin cooling. Not in a menthol - like stinging way, your skin just literally feels cooler. I tried this out on a hot and humid day, when I didn't actually have a sun burn. I rubbed a little bit on my arm, and my skin in that spot began to feel cooler. Another thing that I really like about this product, is that it is not overly sticky or thick like some other burn creams out there. It's light and easy to apply, and there's not a huge rush to get it off of your fingers afterward. There was also almost NO scent to it, which is another wonderful thing about this particular item!
Another thing that a lot of you may like (I know that I did, as I truly think that it attributes to the great things that I wrote above) but this product is homeopathic and completely natural. There aren't any chemicals or anything concerning in their product. It makes sense that this would be a factor, I mean, you're rubbing it all over your skin, after all!
You can find out more about this product
here!
It can also be purchased at Walgreens!
Disclaimer: I received one or more products above for review purposes only. I was not required to write a positive review. My opinions as always are my own. This post may contain affiliate links. The Mom Show's giveaways are not affiliated with Facebook or any other social media networks. The sponsoring company is responsible for all shipping unless otherwise stated. The Mom Show is not responsible for sponsors not upholding their promises and cannot reimburse you for items or the value of products. Should this occur, please contact The Mom Show and I will do my best to help you achieve promised winnings
.
I received one or more of the products mentioned above for free using
Tomoson.com
. Regardless, I only recommend products or services I use personally and believe will be good for my readers.