Another Blogger's Challenge Post -- A Picture of Something that Makes You Happy
I spent a LOT of time looking through pictures. I started out by looking through pictures of my daughter. She obviously makes me really happy.
I looked through pictures that I have of my husband. He makes me really happy.
I looked at pictures of other family members and friends, who also contribute to my happiness.
I even looked through some of my pictures of sunsets and nature. I didn't want to do something obvious. I spent a LOT of time looking through all of the pictures that I have in my home and on my Facebook. I found a picture, that, upon first looking at it, will appear to be a completely random photo, but while thinking about it, I decided that it incorporated a LOT of things that truly make me happy.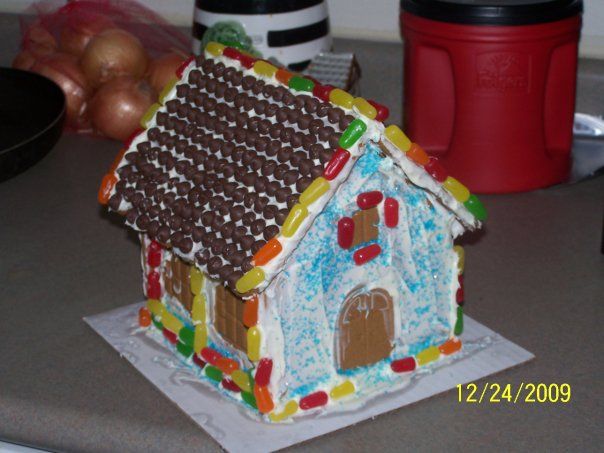 Let me explain! Obviously, I like to eat sweet things, but that's honestly not why I chose this picture.
I love the holidays! There is just not a happier time! I love when I am given great reasons to reflect on my blessings. Plus, Christmas is the birth of the Lord!
I love doing things with my daughter. I love activities where we're making something. I love the proud look in her eyes when she's doing it and once she's done. I love teaching her new things and seeing her figure them out. This was from my daughter's second Christmas. She was just starting to be old enough to help me with things like this (albeit only a small bit), and we had a blast! In fact, when I saw this picture, the first memory that came to mind, was after it was finished and serving as a centerpiece, catching my little one sneaking numerous chocolate chips off of the roof, and the mischievous look on her face when she got caught, and the sly smile she got immediately after
not
getting in trouble!
I love doing crafts, and I love baking! These are two really enjoyable activities that I love doing!
So, yes, to you, it is a random picture, but for me, it brought back memories of the day we did this and the small amount of extra enjoyment that it added to our wonderful holidays!
Disclaimer: I received one or more products above for review purposes only. I was not required to write a positive review. My opinions as always are my own. This post may contain affiliate links. The Mom Show's giveaways are not affiliated with Facebook or any other social media networks. The sponsoring company is responsible for all shipping unless otherwise stated. The Mom Show is not responsible for sponsors not upholding their promises and cannot reimburse you for items or the value of products. Should this occur, please contact The Mom Show and I will do my best to help you achieve promised winnings.