This post is for my blogger friends, but for my readers who don't happen to blog also, I guess it's kind of a sneak preview!:
I am helping my friend over at
Mom of One and Having Fun
to promote her giveaway! Who wants to help to giveaway a WII and some games?! She is doing a giveaway worth more than $300!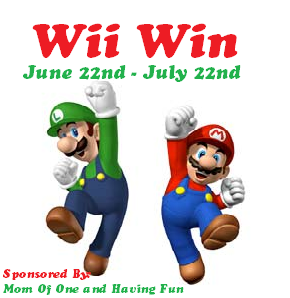 Sign up for the Wii Win Giveaway!!
Giveaway includes:
Black Wii Console with Super Mario Brothers and CD - Includes Controller and Nunchuck Drawsome!
Tablet w/ 2 games
One Featuring Smurfs Disney Sing It: Pop Hits
SpongeBob Boating Bash
Babys First Steps
Xtreme Fit Interactive Gaming System - NOT a Wii Game but it's Great for Adults
ARV Over $300
Cost of this giveaway: $5 for 2 links (facebook and twitter), $1 for additional links (up to 3 more) and $2 for a backlink.
There's even a referral prize! $25-$50 PayPal Cash - Depending on Sign Ups
Just fill out the document here:
https://docs.google.com/spreadsheet/viewform?pli=1&formkey=dGdDMXZtUTVuWXRrb0tvUGNTdDZBdWc6MQ#gid=0
And make sure you say that The Mom Show sent you!!
Sign ups end June 16th!!