Yesterday, I posted about using the computer to play educational games with your children, and coincidentally, today, I found out about a website called
Reading Eggs
! This is a site that helps your children learn to read. It's something she can do by herself, or with you, and it helps her to learn her reading, spelling, grammar and more!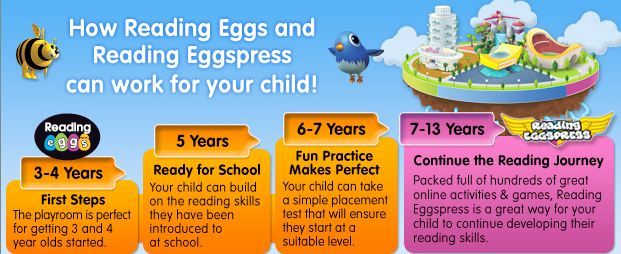 They have age and skill appropriate games, stories and activities for your child as he or she takes that leap into learning how to read. These games were developed by a team of experienced teachers, educational writers, and web developers.
I am learning lately, from other parents, that children are encouraged to know more at a younger age now, than they used to be when we were children. They should know letters, numbers, shapes, colors, and more before even beginning kindergarten, which is why sites like these are such a great thing! I mean, I am a parent, not a teacher, so I really rely on the resources that are at my disposal to help me prepare my daughter for the beginning of her education. I want to give her the tools that she needs to succeed academically from the very beginning!
One of the best things about this website, is that you get a 14 day FREE trial to try the site out with your child and see if it's a good fit!
This gets even better. They have recently launched an iPad app called Eggy Alphabet! It can be purchased from the app store for only $2.99 (But, there's a free version as well! Keeps getting better and better, right?) Each version comes with alphabet games that help your child to learn their letters. Your children will have fun while developing important skills in literacy!
Go ahead and check Eggy Alphabet in the app store
!
This evening, I signed up for the free version of this game, and look forward to playing with my daughter and seeing how she likes it! We may end up buying it for her for Christmas!
If you want more information about Reading Eggs, you can look at their website, or check them out on
Facebook
and
Twitter
, and like I said before, you
can see their new app Eggy Alphabet at the app store
.
Disclaimer: I received one or more products above for review purposes only. I was not required to write a positive review. My opinions as always are my own. This post may contain affiliate links. The Mom Show's giveaways are not affiliated with Facebook or any other social media networks. The sponsoring company is responsible for all shipping unless otherwise stated. The Mom Show is not responsible for sponsors not upholding their promises and cannot reimburse you for items or the value of products. Should this occur, please contact The Mom Show and I will do my best to help you achieve promised winnings.