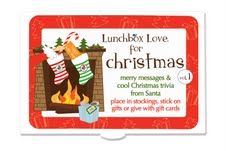 I think most of us have a mom on our Christmas gift list this year. Someone who loves doing those little things for their children, and spouses that bring a simple joy to life. Perhaps YOU are one of those moms! The kind that leave notes in your children's lunches sometimes.. Just to remind them that you love them. My daughter isn't in school yet, and therefore, this doesn't quite apply to us yet. But I do leave notes and cards in my husband's lunch sometimes. I like to remi
nd him in the middle of his day, that I love, appreciate and am thinking about him. I've been giving him a Christmas one every few days, and he gets a kick out of them. I get phone calls saying things like "I made your awesome list, huh?" I am actually planning on putting that one below next to an empty cookie plate on Christmas morning. How awesome that will be when she thinks a note came from Santa about her cookies!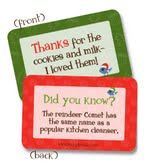 I have found such a great product for this. It's called Lunchbox Love and they're adorable. I absolutely love them. They are small cards with loving messages on the front, and fun little facts on the back. They're great. My husband gets a kick out of a few of the Christmas ones that I've put in his lunch, and even, as a group of grown men, the fun facts have given them things to talk about while they're working. I can't wait to be able to share these with my daughter also (she has to learn how to read first, of course, but she'll love them when she can, I'm sure of it!
Disclaimer: I received one or more products above for review purposes only. I was not required to write a positive review. My opinions as always are my own. This post may contain affiliate links. The Mom Show's giveaways are not affiliated with Facebook or any other social media networks. The sponsoring company is responsible for all shipping unless otherwise stated. The Mom Show is not responsible for sponsors not upholding their promises and cannot reimburse you for items or the value of products. Should this occur, please contact The Mom Show and I will do my best to help you achieve promised winnings.