Today, I wanted to introduce to you a beautiful gift for the women in your life.
Delance
is a swiss watch company that was developed by a lovely woman who truly feels that every woman deserves a little bit of beauty in her life. Inspired by her mother, she has began a company that truly does just that. I love watches and jewelry, and it is Christmas time, and I feel that these would make an excellent gift. (I would love one!) But especially after hearing her wonderful story, I want to take the opportunity to tell you about a couple of her watches today, but before I do, take a moment to watch this video about how she began her company and her reasons for doing so.
"
Judit
" -- This was created for a mom. It's a simple steel, with a white face, yet has elegant also. It has two small diamonds. The creator of this watch was a mother of two, and selected the two diamonds to represent the birth of her children. There is also a ruby at the bottom of the face of the watch representing the love of her husband. The recipient of this watch would most definitely feel loved, and would have a daily reminder of the love and blessings in her life! A watch like this is beautiful and elegant enough to be jewelry, but strong and practical enough that a mom can wear this without worry. Here's a picture of this beautiful watch.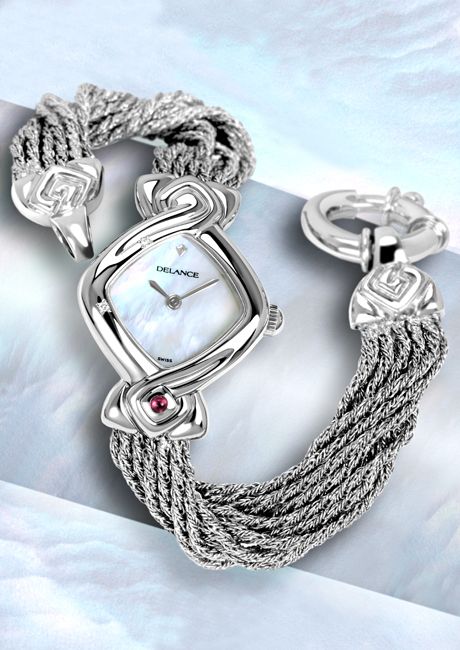 "
May
" -- This would be a wonderful gift for a grandmother (but would be great for a mother as well!) in your life. This one, with 18 carat gold, and a sapphire face has six small diamonds, two representing children, and four representing the grandchildren. This watch is truly wonderful because it is customizable. You can have the diamonds placed at the hours of the birth of the children in your life. What a lovely reminder of the love of your children.
Either of these watches would just be a joyous gift for any of the women in your life. Head on over to
Delance
and start customizing the perfect gift!
Disclaimer: I received compensation for this post.