I had the opportunity to review the Big Boss Oil Less Fryer, and naturally, I jumped at the chance to do this. I love fried chicken, potatoes, and things like that, and this product gives me the opportunity to cook these items deliciously and a little bit healthier!
Imagine cooking up some fried chicken, and french fries using minimal oil (meaning very little added fat!) and only using the one machine to do it. No more multiple pans for cooking meals.
This machine has the capabilities to cook a 16 pound turkey, cornish hens, french fries, fried chicken, pot roast, and so much more. Including dehydrated fruit!
So far, I've only done fried chicken cutlets (delicious!), frozen french fries, homemade fries, and home fries. (we like potatoes). The fried chicken was delicious. It was crispy on the outside, and really moist and juicy on the inside! I cut the fries a little thick so I think they probably could have used to be cooked a little longer, but they still came out good.
My favorite were the home fries. Here is this thing in action!
They came out delicious!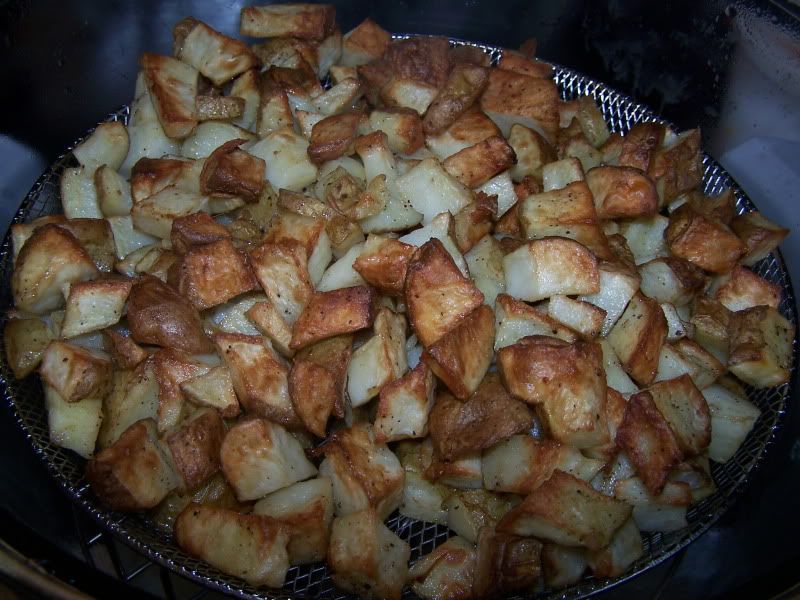 One thing that I really like is that it's easy, and really quick. Foods are done in a fraction of the time compared to that of an oven, and this is because of the way the heat is distributed within the bowl.
Another thing that I REALLY enjoy about this fryer, is that it is SELF CLEANING! You literally just put soap and water inside the bowl, put it on "Wash", then after it finishes and cools, you just rinse it and you're done!
This would make a great gift, as it is an awesome addition to any kitchen! It is a versatile piece of equipment that I will use for my family over and over again!
Disclaimer: I received one or more products above for review purposes only. I was not required to write a positive review. My opinions as always are my own. This post may contain affiliate links. The Mom Show's giveaways are not affiliated with Facebook or any other social media networks. The sponsoring company is responsible for all shipping unless otherwise stated. The Mom Show is not responsible for sponsors not upholding their promises and cannot reimburse you for items or the value of products. Should this occur, please contact The Mom Show and I will do my best to help you achieve promised winnings.