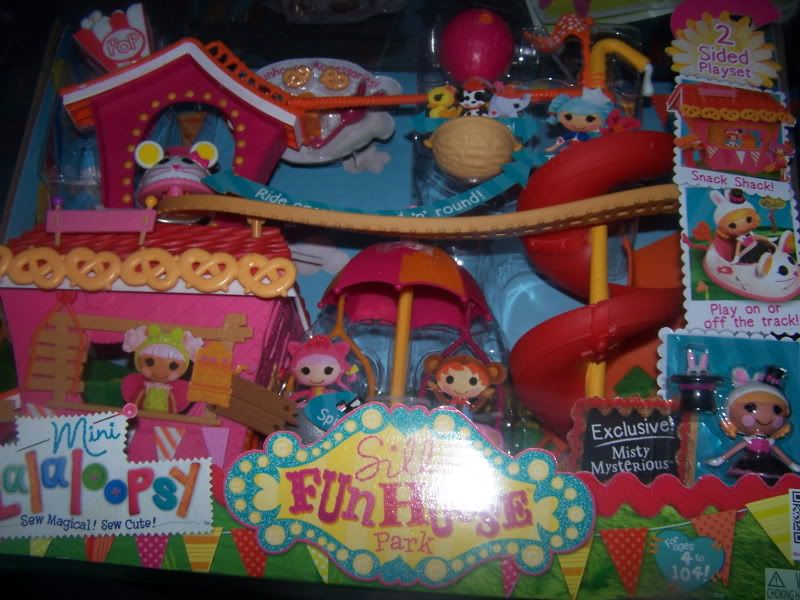 I had the opportunity to do a review of the Mini Lalaloopsy Silly Funhouse Playset with Misty Misterious! As you can see above, this isn't a typical Lalaloopsy doll (which are great, my daughter wants one of these really badly for Christmas as well!)
This is one of those toys that includes a lot of different things to do! Not only that, but the Mini Lalaloopsy dolls would make a good stocking stuffer, and then your child's potential for fun with the playset will grow!
This playset already comes with Misty Mysterious, which appears to be a magician (what's a funhouse without a magician, right?) as well as her rabbit in a hat!
I really like toys like these, because, as I said, there's more to them than just playing with one toy. With all of the components that come with it, your child will play with again and again!
It's really easy to put together, and fun to play with. It comes with a rollar coaster, slide, zipline, a teacup swing and more! Lots of components, and lots of things that your child can play with and do!
If you like what you see, this can be yours as well for $34.99 with FREE SHIPPING when you
buy it through amazon!
On MONDAY I will also be starting a week long giveaway of this item as part of my Christmas Gift Guide Giveaways!
Disclaimer: I received one or more products above for review purposes only. I was not required to write a positive review. My opinions as always are my own. This post may contain affiliate links. The Mom Show's giveaways are not affiliated with Facebook or any other social media networks. The sponsoring company is responsible for all shipping unless otherwise stated. The Mom Show is not responsible for sponsors not upholding their promises and cannot reimburse you for items or the value of products. Should this occur, please contact The Mom Show and I will do my best to help you achieve promised winnings.