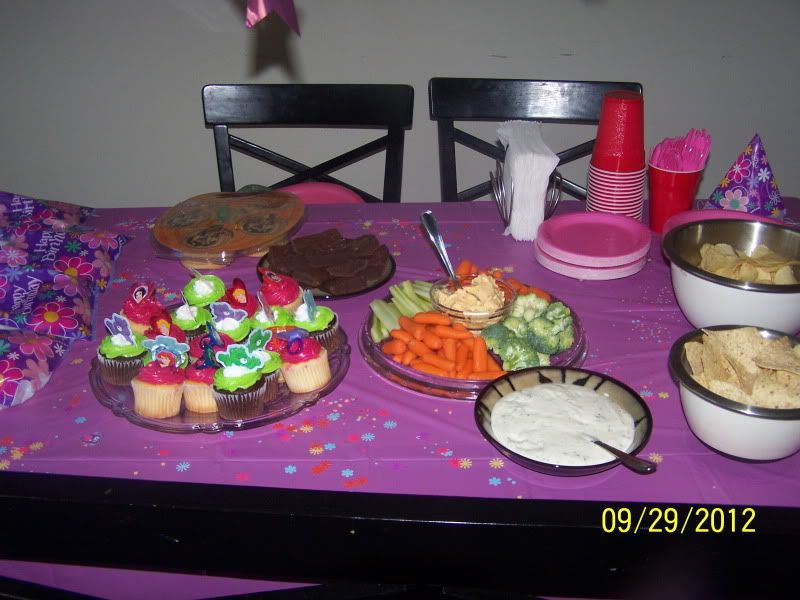 As some of you may know, I recently had a birthday party for my daughter, and have decided to share some helpful tips that we used to make our daughter (and our) day special!
First of all: Plan a few activities for the kids to do. I know this seems really basic, but I have been to a few parties where nothing was planned for the kids,and they ran wild for the whole time. I do believe that a few activities, as well as some time to just play together was a good balance for my girl and her friends. For example, we planned a few things, but they didn't all get done, and that was OK. Here's one of our activities:
I bought this Pin (stick, as they were stickers) the Tail on the Donkey game for only $1.00 at Wal-mart, which brings me to my next tip!
Decorations, even store bought, don't have to be expensive!! I didn't spend more than $1 on any given decoration. If you look at the picture on the top, you might see a bit of the stars hanging from the ceiling. They were $1 for a pack of 3. I only needed one. The table cloth was $0.97, I had a "Happy Birthday" banner that I also only purchased for $1. My house looked festive, and I easily spent less than $5 on decorations! The Wal-Mart and Party City in my area both have $1 party sections. I lived in this section. You're using these things for one day, it's not like they have to be really high quality, or extremely durable. As long as they look nice for the few hours of your party (or until all all of the mini hurricane party guests come through!) that's all that matters!
We did a lot of food, and this ended up being our biggest expense. If you have a party around lunch or dinner time, you have to feed your guests lunch or dinner. We went to Little Ceasers, and got six of their $5 pizzas. We spent $32 (with tax) on lunch for our guests. I also had plenty of juice, milk, soda and water for everyone to drink. I baked a few things and had chips, veggies and dip. Coupons definitely help with this stuff, as well as doing things like making your own veggie platters and dip. I did buy her some cupcakes instead of a traditional birthday cake. I could have saved a great deal of money if I had just baked them myself, but I'm really not a cake decorator, so this might not have come out as good.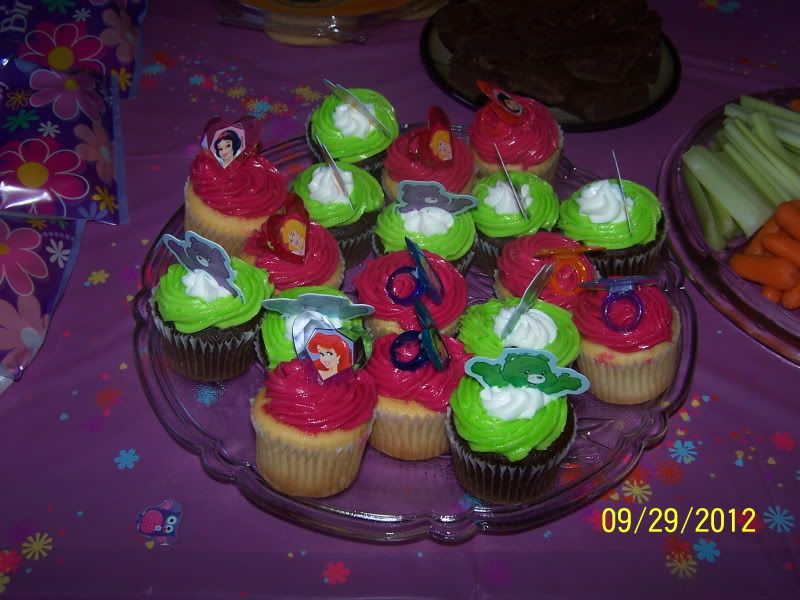 Lastly: Let yourself have as much fun as your child! I have a four year old, so she's still meeting most of her friends through me. This means that I essentially got to hang out with my friends while she hung out with hers!