I have recently learned about a product called The
Piggyback Rider
! Basically, this is a child carrier that allows your child a "piggy back ride" whenever you're out walking!
One of the great reasons that I love this, is because most carriers are made for infants. This one is specifically made for children over two and a half years of age. My daughter is a good walker, but, like most kids, becomes a bit of a complainer when the distance is too far, or she begins getting tired. My husband carries her on his shoulders, but that gets tiring too! I am excited to be able to have another option!
Basically, this functions like a regular backpack, in the way that you wear it. It holds your child in place with a safety tether, while your child essentially stands on an adjustable textured bar, distributing their weight, evenly and comfortably, while holding on to the hand straps. This product makes your whole experience, whatever it may be, comfortable and safe for everyone!
Some important safety information: This product is meant for children who are older than 2 1/2 years old, but only up to 60 pounds. At this time, the Piggyback Riders are not recommended for children with special needs (but they're actually working on it! Check out their website because right now they're putting together a focus group to help make this happen!)

This product has won MULTIPLE awards, including Parent Trusted, Parent Approved, Outdoor Retailer's Best New Product on Summer 2011, and Seals of Approval from The National Parenting Center, and MrDad.com!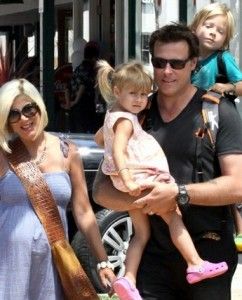 Here is a picture of Tori Spelling, Dean McDermott and their two children using this product and loving it!
Whether you're looking for a gift for parents, or a way to be able to just enjoy more with your children I highly suggest
checking out this company!
Disclaimer: I received monetary compensation for this post.