A while ago, I posted about the different links to recipes for Apple Butter that I was looking at. I learned that you can make it really easily right in your crock pot! It really is as easy as all of the recipes made it look! I kind of took a combination of all of the recipes. My family is eating this stuff up, and my husband has treated some of his friends with some (which has opened my eyes to some of the crazy ways Apple Butter is used by some people. It's not just for toast, but I'll share that a little later.) Here's how I made it!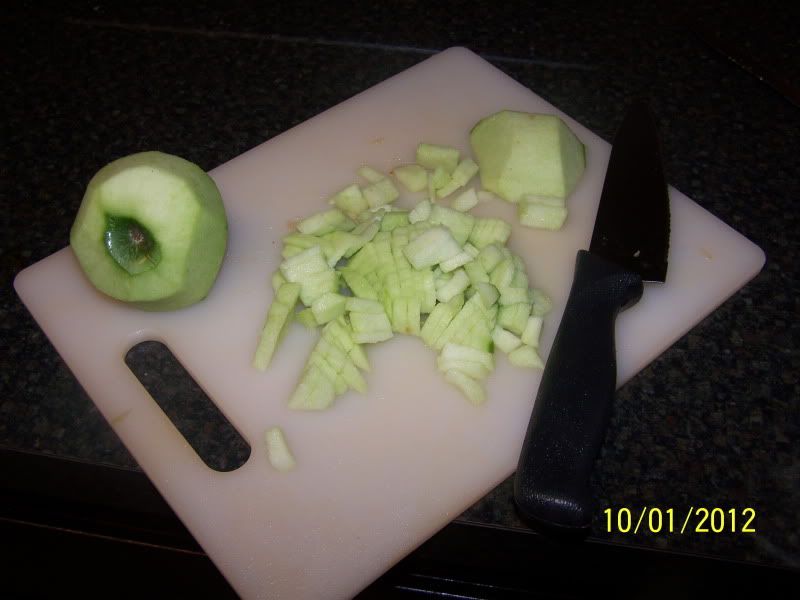 First I cut a TON of apples! Each recipe I looked at, called for filling, or almost filling a 5 quart crock pot. I have a 6 quart pot, so here's what mine looked like when I was finished cutting apples:
Next, you add a LOT of sugar. Recipes I used called for four cups, but in the comments for a lot of them, it said that the recipe came out really sweet, so I only added 3 cups.
Then, it was time for the other ingredients. I added 1/2 tsp of nutmeg, 1/4 tsp. ground clove, 4 tsp cinnamon, and 1/4 tsp. salt.
I mixed the sugar and spices into the apples slightly, and added about 1/2 cup of water (this prevents the apples sticking to the crock pot when the cooking first begins.)
Then I put the crock pot on high for about an an hour and a half to two hours.
Here's what it looked like after cooking for just a small amount (notice the apples are already a tiny bit smaller. this cooks down a lot!)
I stirred mine every hour or two. While I stirred, I also took a handheld potato masher and used it for the first several hours. This is what it looked like after about 6-7 hours: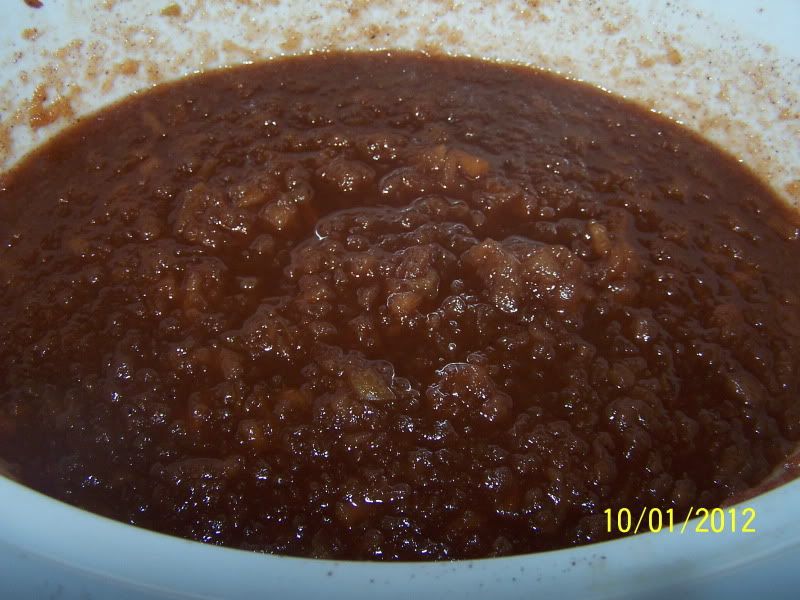 Notice that it has cooked down a lot, and it kind of resembles a really dark apple sauce at this point. This is when I start whisking it instead of mashing it when I stir it. (I don't know that these steps are 100% necessary, but everyone who's eaten it has loved the consistency so I'm sticking to what I know works!)
Here's what it looked like after about 12 hours.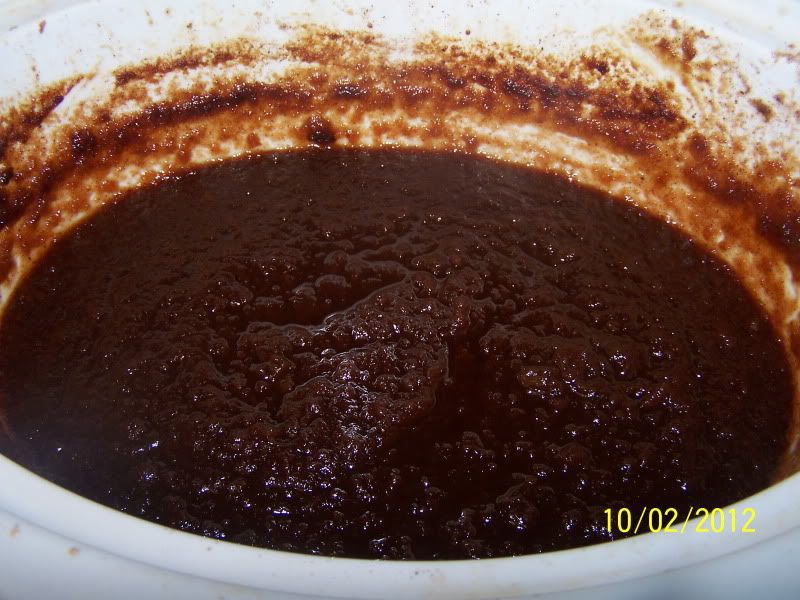 You can tell by the sides exactly how much this continues to cook down. When I started my process, I was worried that I wasn't going to have enough jars (I bought 12 half-pints), but it took two batches to use all of the jars!)
I cooked this overnight, and surprised my husband by spreading it on a croissant when he came home. (He had no idea I was making this, so it was a nice surprise!)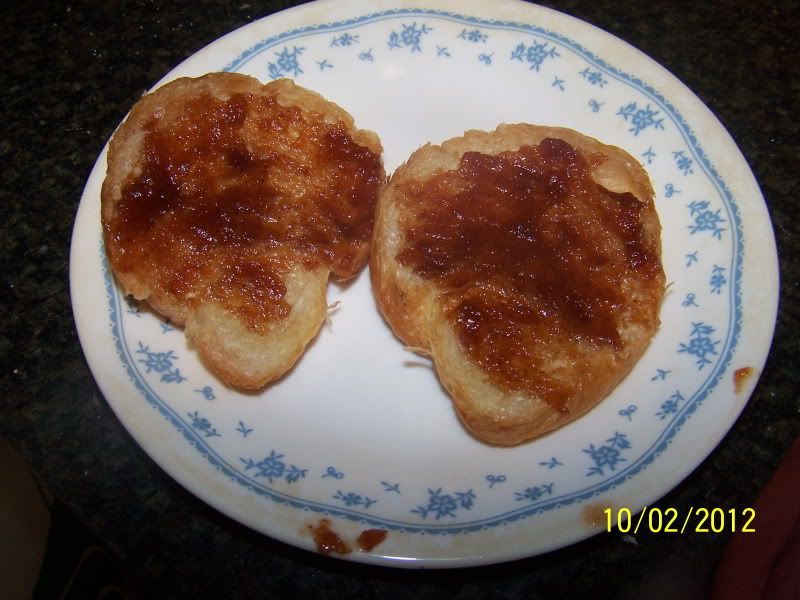 I gave it a few hours to cool, and then I canned it. I will write another post, another time, about this process. Mainly because it is a lot easier than I thought that it would be, and I would love to ease the fears of other people like me who thought it was going to be a completely daunting process!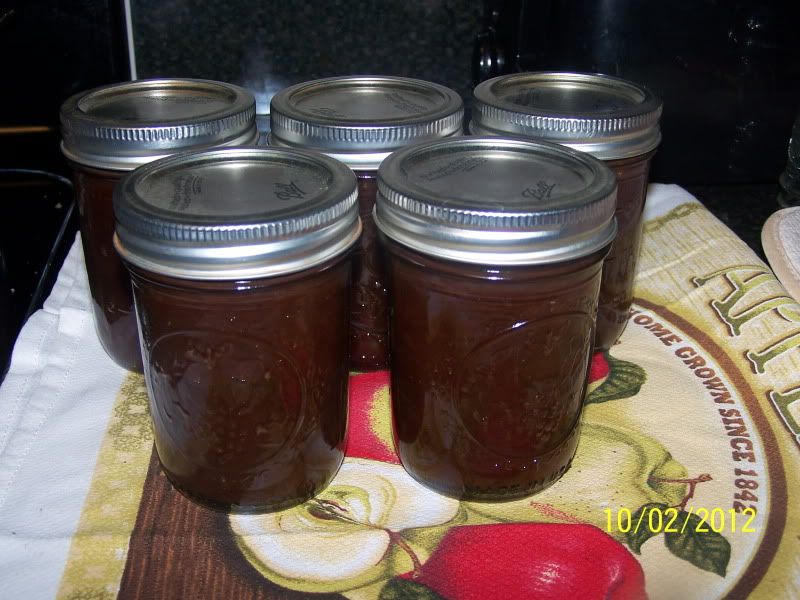 Now, as I said above, my husband's friends at work have come up with some pretty interesting uses for the Apple Butter that we gave them (that go beyond toast, bagles, and things like that.)!
I said earlier that some of my husband's friends had some interesting ideas for how to use Apple Butter. (Some of them I thought sounded really gross, but to each their own I suppose!) The one idea that (I haven't tried, but) really sticks out in my mind, is using it to glaze pork chops. I never would have thought to do this, but now I definitely want to, because it sounds DELICIOUS! If you try this before I do, please contact me and let me know how it comes out!
Disclaimer: I received one or more products above for review purposes only. I was not required to write a positive review. My opinions as always are my own. This post may contain affiliate links. The Mom Show's giveaways are not affiliated with Facebook or any other social media networks. The sponsoring company is responsible for all shipping unless otherwise stated. The Mom Show is not responsible for sponsors not upholding their promises and cannot reimburse you for items or the value of products. Should this occur, please contact The Mom Show and I will do my best to help you achieve promised winnings.