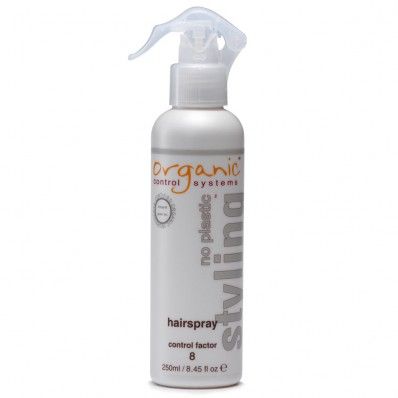 I had the opportunity to review
Organic Control Hairspray
. I received it and tried it out in my home for a few weeks, with a few different hair styles. I don't typically use hair spray, but I really like this one.
The first thing that I noticed, was the smell. It was a really nice, sweet, clean smell.
I use it a lot when I wear my hair up because there are a few fly aways that are just difficult for me to control (seriously, there are days when I look like I stuck my finger into an outlet!) and this actually works on those as well as the hair gel that I normally use.
Not only that, but it's not sticky and gross like other hairsprays that I have used. It doesn't make my hair rock hard (my daughter got to it once, and soaked her bangs in it. This could have been a LOT worse for a lot of reasons if it were with another hairspray.
I absolutely love the fact that it doesn't contain any harsh chemicals. I can use this on my daughters hair (poor kid has some of the same problems with her hair that mom does..) and it's safe. I would highly recommend this hair spray to others, and I hope to eventually try some of the other hair care products that they carry.
Disclaimer: I received one or more products above for review purposes only. I was not required to write a positive review. My opinions as always are my own. This post may contain affiliate links. The Mom Show's giveaways are not affiliated with Facebook or any other social media networks. The sponsoring company is responsible for all shipping unless otherwise stated. The Mom Show is not responsible for sponsors not upholding their promises and cannot reimburse you for items or the value of products. Should this occur, please contact The Mom Show and I will do my best to help you achieve promised winnings.