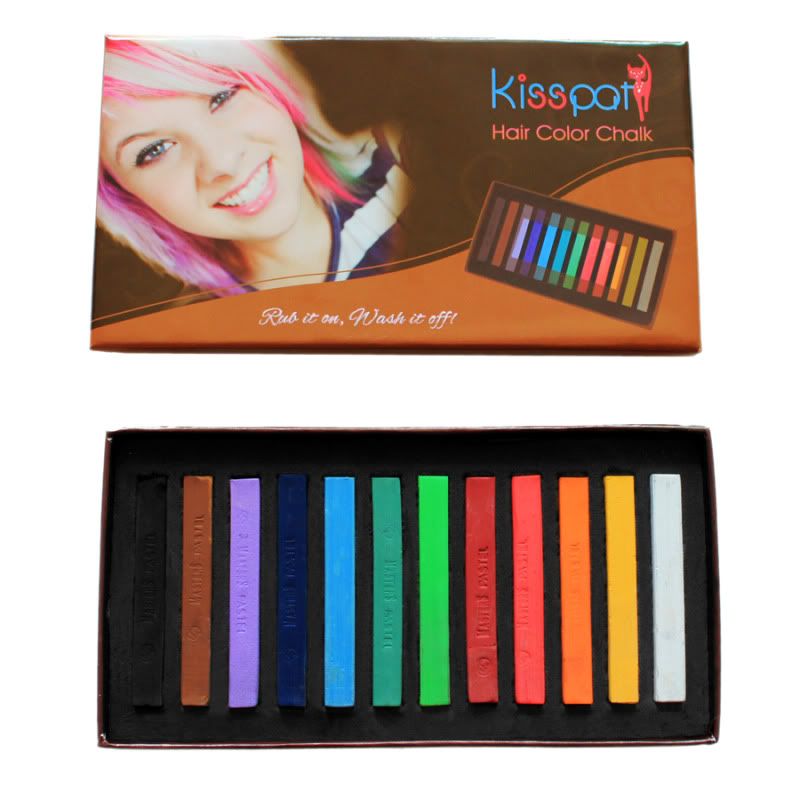 I was given the opportunity to review
Kisspat Hair Color Chalk
. It's basically just chalk that you rub onto you hair and color is applied that way. It's really easy to apply. Instructions come with the product, and you can also go to their website for some
how-to tricks
.
I decided that this would be a fun little adventure with my four year old. She liked the idea of "coloring in her hair" so we did it. Unfortunately, this wasn't an easy project for a young child. I would recommend only using this project with blond or really light hair if you want any of the darker colors to show up, my daughter has brown hair, and it really didn't show up very well at all. I would also recommend doing this for an evening when you're going to be washing it out shortly after, the website says it will last up to two days, but I wouldn't leave it in there that long. We did it after her bath yesterday evening, and when I brushed her hair this morning, it was AWFUL! Imagine brushing your hair with dried hair spray in it, because it's like that.
That being said, the color that showed up did look kind of cool, and we will probably use this for Halloween, using the brighter colors that will match her costume. It is a decent product if used the right way.
I received one or more of the products mentioned above for free using
Tomoson.com
. Regardless, I only recommend products or services I use personally and believe will be good for my readers.