I was SO excited for the opportunity to do a review for Oofos! They are sandals, but SO much more than that. These are literally the most comfortable shoes I have ever worn.
Now, let me tell you before I continue, that I am definitely a flip flops girl. If it's not snowing or raining, my feet are in flip flops. Even in the winter. I don't like wearing regular shoes! So when I heard about these "thongs" that were supposed to be extremely comfortable, and they wanted me to review them, I almost literally jumped for joy. But I was also skeptical, I mean, how overly comfortable can they be?
To answer that question, extremely. They are extremely comfortable. When I first tried them on for the first time (which I was so excited to do, that I failed to take a picture first, so the image I'm going to show you is from their website) they felt a little snug, so I wasn't sure how much I was going to really like them. Within a few hours of wearing them, however, they were so comfortable.
This is what the sandals that I received looked like. I had initially wanted black ones, but they were out of stock at the moment, so I got these. I was a little disappointed at first, but after wearing them, I honestly don't even care!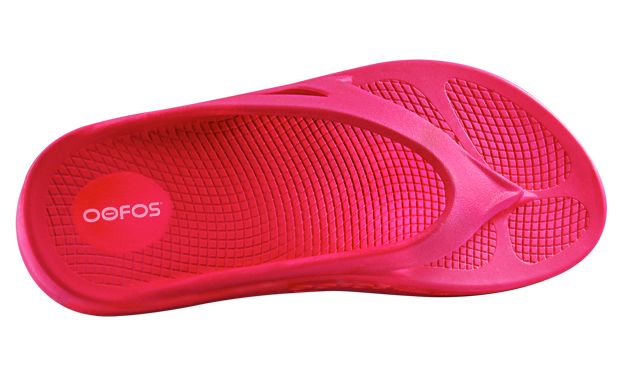 Usually, walking on regular flip flops for extended periods of time isn't something that I have enjoyed, and I had to wear something else to be on my feet and walking for hours at a time. My family and I went to a local fair the other night, and were there, walking for HOURS, and I wore these shoes on purpose, so that I would be able to write a truly accurate review for you guys. I have a lot of problems with my feet typically, where they swell and get really sore when I'm on them for a really long time, I also have really high arches, which is part of the problem. I hadn't really been able to find comfortable shoes to alleviate all of this. Until now! After all of that walking my feet were still comfortable at the end of the day.
The reason for this, is because they're made using "OOFOAM technology" that absorbs 37% of shock and impact while you're walking, and it works, because these are the softest, and most comfortable sandals that I've ever worn.
They are also made with quality. I feel that they are worth every single cent of the $39.99 you might pay for them. If you're interested in doing a little bit of shopping for yourself of your spouse (they do offer them in both men's and women's sizes.) you can look at their online store by clicking
here
.
The company has also been gracious enough to offer a giveaway for my readers, which I will be doing as a flash giveaway tomorrow. Be on the look out for that!
Disclaimer: I received one or more products above for review purposes only. I was not required to write a positive review. My opinions as always are my own. This post may contain affiliate links. The Mom Show's giveaways are not affiliated with Facebook or any other social media networks. The sponsoring company is responsible for all shipping unless otherwise stated. The Mom Show is not responsible for sponsors not upholding their promises and cannot reimburse you for items or the value of products. Should this occur, please contact The Mom Show and I will do my best to help you achieve promised winnings.