Pambra -- The Original Bra Liner!
Product Review!
I got the opportunity to receive and review a product from Pambras. I was intrigued because I personally hadn't seen a product like this before. Let's face it, I think we all have at least one uncomfortable bra that is cute, or makes our chest look good, or for whatever reason, despite the discomfort, we still really
REALLY REALLY
want to continue wearing that bra.
Some of us experience a few problems with perspiration in the area under our breasts. Did you know that this can cause uncomfortable yeast infections as a worst case scenario, and
is just uncomfortable and gross in best case scenario.
I have found a product that really truly helps make both of these problems better. It's Pambras bra liner.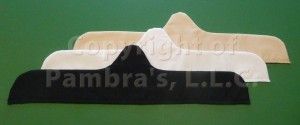 I was skeptical at first, only because, as I said above, I have never seen a product like this before, and I haven't had much of a perspiration problem in that area, so I really wasn't sure if it was a product that would be really useful to me, UNTIL I read that it can help with the discomfort that can come with underwire and other bras. Here's a video below that will allow you to see how it works!
The one negative (and I mean the only one, this is a product that I really like) is that if you're going to wear a lower cut shirt, the white part in the middle may be visible.
HOWEVER
I was actually really impressed at the fact that it is not at all visible in any way through a shirt.
So, this is a comfortable product that I would definitely recommend (with conservative shirts.)
You can check out what they're saying at Pambras' blog by clicking
HERE.
Like Pambras on Facebook by clicking
HERE.
Also Check Pambras3 out on Twitter.
Disclaimer: I received free product for the purpose of reviewing it on this site. There was no monetary compensation and these opinions are my own.