This is a review that you want to show your husband.. and you want to show him soon, so that he can get you one of these for Valentine's Day!! I am so glad to have one!
I had the opportunity to review a
Professional Skin Care System
from
Toilet Tree
. I LOVE it.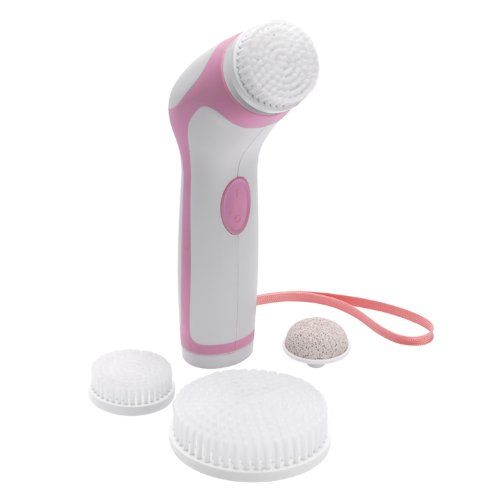 Image Credit: Toilet Tree Products website.
This brush comes with two smaller face exfoliating brushes (medium, and soft for more sensitive skin), a larger body exfoliating brush and a pumice stone. This is something that I've been able to use for myself, and also on my daughter, and we both love it. I absolutely LOVE giving myself pedicures at home (it's so much cheaper!!) and I love using the pumice stone to do it.
Men, this would make a wonderful gift for your wives! You can
buy one on Amazon for only $34.95!
!!
Ladies, if you receive one of these, you can also
get two replacement pumice stones
for only $9.95!
I would highly suggest this product, either as a gift for Valentine's Day, or a special gift just for yourself!
Disclaimer: I received one or more products above for review purposes only. I was not required to write a positive review. My opinions as always are my own. This post may contain affiliate links. The Mom Show's giveaways are not affiliated with Facebook or any other social media networks. The sponsoring company is responsible for all shipping unless otherwise stated. The Mom Show is not responsible for sponsors not upholding their promises and cannot reimburse you for items or the value of products. Should this occur, please contact The Mom Show and I will do my best to help you achieve promised winnings.