When looking for exciting,unique items to add to my list of affordable gifts, I decided that I definitely wanted to include some gifts that not only give once, but could theoretically last a lifetime. That's when I came across
Your Two Sense Worth
. Life is what we perceive it to be, and sometimes we are surrounded by such negativity, that it hides the enormous amount of beauty that is all around us. I am striving to not only be the best mother and wife I can be, but to live a life filled with love, joy and happiness and I truly believe the unique perceptions contained in these 365 daily thoughts will help me tremendously achieve that goal.. If you are looking for a very affordable, unique, personalized gift that will show the receiver how much you truly care, I'd strongly suggest you give this gift that at the least will last 365 days, and at the most last a lifetime.
Here is an image provided by the website: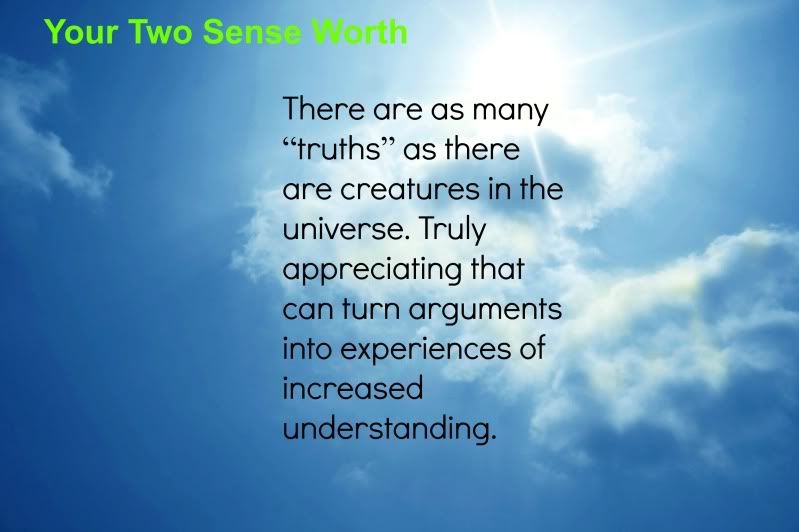 This is an affordable service that will bring positivity and inspiration to your loved ones each day.
Here are a few quotes that they have shared:
"Your "dreams" will only have a chance of coming true when you truly feel you are worthy
of them."
"Make today one that tomorrow is jealous of, and yesterday couldn't even imagine"
"On your road to greatness, please make sure no one else defines either your speed limit or
which path to take. It's your journey not…. theirs."
Those are just a few of the messages that have been shared. Reminding our loved ones of the joys and good things in this world will brighten days and improve your daily relationships.
Go to their website
to find out how you can provide this to your loved one for Valentine's Day, or just to provide that daily pick me up! You can also check them out on
Facebook
. If you do, or if you decide to order, please let them know that
The Mom Show
sent you!