I am particularly excited to share with you, this gift idea for your Valentine's Day celebration! It is from a company called
Nature's Notebook
. They offer personalized photographs with names and words taken in the sand (have you ever written names, or drawn hearts in the sand?) You can have you and your Valentine's name written in the sand, in a way that will never wash away when the tide comes in.
This is a gift that will certainly be treasured. What a beautiful way to memorialize your love (or anything else you'd like!) After your order is placed, a professional photographer writes your special message in the sand, and takes a beautiful, one of a kind, picture, including some starfish in your special message (you can even purchase the exact starfish that were used in the photographs!)
Here are a few photographs from their website (used with permission):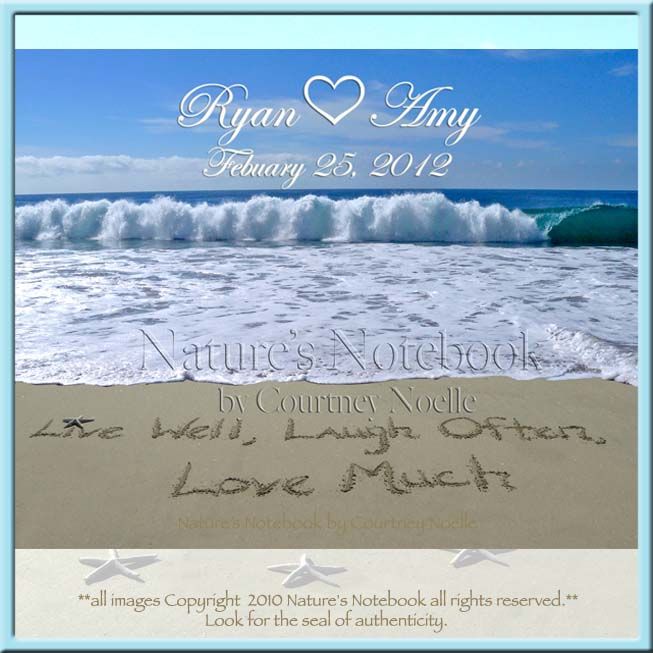 She is giving me an item for review (I will put another post up after receiving it, including a photo), but I'm sharing it with you now, because I don't want any of you to miss out on the opportunity to get one in time for Valentine's Day! I am so very excited to receive it, and I know that my husband will absolutely love it (in fact, I'm pretty sure that we both will!). I haven't even received it yet, and I am already so impressed by how professional Courtney (the photographer behind Nature's Notebook) is, and how much she seems to love her art form. Without receiving yet, I am already fully confident that she is going to provide me (and hopefully lots of you!) a wonderful Valentine's Day gift for my husband! This is why I wanted to go ahead and recommend this to you so that there's plenty of time to order for your special day!
Her pricing is also fairly reasonable, considering the work she puts into her products. There are a wide range in prices depending on what you order, but there are definitely plenty of affordable gifts on
her site
!
Head over to her
Facebook Page
, and let her know that The Mom Show sent you!
Disclaimer: I received one or more products above for review purposes only. I was not required to write a positive review. My opinions as always are my own. This post may contain affiliate links. The Mom Show's giveaways are not affiliated with Facebook or any other social media networks. The sponsoring company is responsible for all shipping unless otherwise stated. The Mom Show is not responsible for sponsors not upholding their promises and cannot reimburse you for items or the value of products. Should this occur, please contact The Mom Show and I will do my best to help you achieve promised winnings.