I was given the opportunity to sign up for something that gives me a little bit of extra piece of mind when it comes to the safety of my family and pets. It is a service called
Family Search Alert
, and I truly think that every family should have this as a precaution.
There are certain things that none of us like to think about. Kidnappings, children going missing, pets going missing and more. These things are nightmares, really. It's incredibly scary to think about, so much so, in fact, that some of us just don't. Do you have a plan if your child were to go missing one day? From your home, school or even the grocery store? What would your first response be?
I obviously would first call the police, and do everything I could myself to find her. However, now, I know that I can utilize
Family Search Alert
, which gives me the ability to utilize text messaging, email, social networking and more to get the word out to everyone I know, to get the help I need. The basic plan, which allows me to do all of those things is absolutely free to use, but for only $24.99 a year, we can also have automated phone calls, cell phone calls and even faxes, and also print fliers in addition to emailing, text messages and social networking. Now, let's face it, not everyone has all forms of modern technology. Not only that, but I know that there are people whom I have a phone number for, but not an email address. This doesn't just cover our children, but can also be used for our pets and the seniors in our lives as well.
There are two kinds of alerts that you are able to send out. A "Yellow Alert", which enables you to write the message that your recipients will receive. This is good for a situation where you don't really feel that it's an emergency requiring the police just yet. (Say you haven't heard from an elderly parent today and it's concerning you, or, perhaps your dog got loose a while ago). Then, there's also a "Red Alert". This is an automated message that your recipients will receive, and it also allows the police to access your information (only information that will be pertinent to your case). This is obviously for real emergencies, and it will not be available for your pets.
You can actually use the promo code "MomShow01" to get a discounted price of $19.99 per year of service. This code expires on 4/6/2013 so act now!
Like I said before, sometimes, terrible things happen. We absolutely never like to think about them, however, we should always be prepared for any situation. It's hard to prepare yourself to deal with a situation when you're devastated and panicked so now is a great time to make sure you're ready to take action just in case!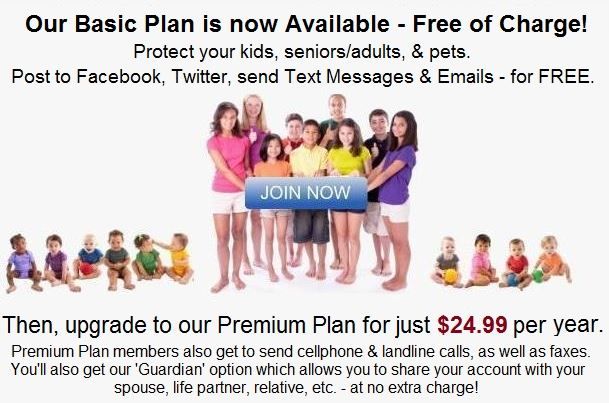 Disclaimer: This review has been brought to you by AdvertiseWithBloggers.com and http://www.familysearchalert.com
A free trial has been provided to facilitate my review as well as a promotional item as a thank-you for participating.
All opinions are 100% min
e.