5 Things To Pack for the Family Camping Trip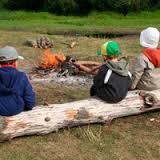 Being a mom is hard work. Fathers have the duty and responsibility to give moms a break from the kids every once in a while. But let's face the truth of the situation. When trying to push the responsibility of packing for the family camping trip onto Dad, he usually forgets key items.
Don't be unprepared on your camping trip to the nearby state park or campground. There are certain essential items you must bring on the trip.
Mom's play a monumental role in packing for the camping trip. They stay on top of organizing kids clothing, the food in the cooler, making sure the tent is up to date and good to go.
Here's a list of 5 important items Moms should consider for packing when camping with the kids.
This is the most important item on the list. If your family needs a tent upgrade, then it's a good idea to conduct your expert researching skills when considering a new
camping tent
. It has to be large enough to contain all the children and parents, but you don't want a huge tent to lug around with all the other gear. Add that weight onto the responsibility of keeping track of rambunctious crazy kids, and the camping trip will quickly turn into chaos.
Either choose one family sized tent or separate tents for parents and kids. Whatever you choose, it's a good idea to invest in lightweight and easily compactable tents. Also, purchase a tent that has a simple and straightforward set up. You don't want to be spending hours setting up the tent while trying to watch the kids.
Breathability in a tent is a huge factor when camping with kids. You never know what smells or dirt they'll track into the tent after exploring all day. Plus, it's never too late for accidents with very young campers.
You don't want to bring home sick kids from camping trips. A great tool for keeping the kids clean from potential illnesses and diseases when camping is disinfectant wipes. They quickly remove dirt and germs from your children's hands before eating.
You don't have to worry about them playing in dirt all day with a hefty pack of these cleaning agents. They are child friendly, easy to use and transport.
Kids are subject to all kinds of accidents, especially when camping. You never know when your child will decide to go swimming in a gigantic muddy puddle, dig dirt holes, spill water all over themselves, or get into any other trouble.
It's very important to pack lots of socks, underwear, and a change of clothes for every single day. Having enough clean clothing will prove essential when camping to help clean up the mess.
Band Aids and Hydrogen Peroxide
You may not need a comprehensive and fully loaded
first aid kit
for a quick weekend camping trip with the kids. But do not forget enough band aids and hydrogen peroxide. Children are clumsy and reckless. They fall anywhere and everywhere.
It never hurts to have too many band aids to patch them up and control bleeding from little scrapes. Hydrogen peroxide may sting a little, but it will build character and keep their cuts clean.
Do not leave home without it. Every mom and dad should pack a roll of duct tape in the car and in the camping pack for a weekend alone with the kids.
Image Source – goodhousekeeping.com